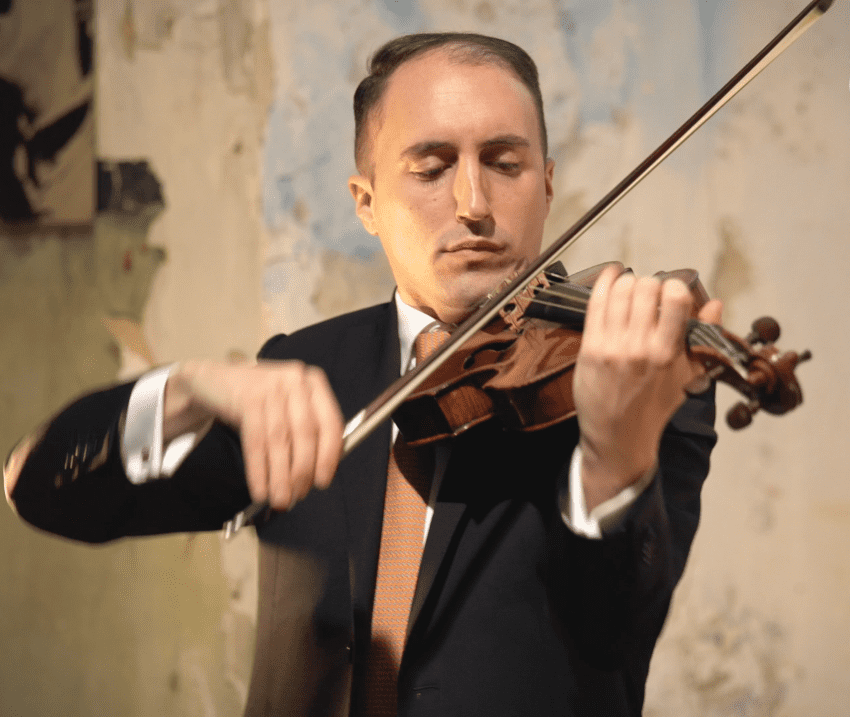 10 questions for Daniel Palmizio
Back in March 24classics hosted the BACH pop-up store in Amsterdam. Together with Nicolas van Poucke 7 days were filled with concerts from the best ensembles and musicians all playing pieces by Johannes Sebastion Bach.
On March 20 Daniel Palmizio and Nicolas played for 24chambers. Daniel was in town recording the sonatas for Viola da Gamba by J.S. Bach and two sonatas by Brahms with Nicolas that will come out on CD later this year. Daniel has established himself as one of today's most highly regarded young violists with a string of competition successes and an extensive concert experience. He lives in Rome where he is a professor of Viola at the Santa Cecilia Conservatoire and plays all around the continent.

1. Can you tell us what was on the program for 24chambers?
We played the sonatas for Viola da Gamba by J.S. Bach.
Interestingly, this cycle of three sonatas has some extremely innovative writing by the great master, very dense in texture and voices. The contrast between each work is remarkable. The form, the freedom in the melody and tonality, and its solemn musical weight make the sonatas for Viola da Gamba a musical masterpiece.

2. If you would not be a musician, what would you be?
A professional cyclist. I'm a huge fan of Vincenzo Nibali.


3. How do you organise, what is your itinerary like, the day of your concert?
The element of surprise is what all musicians live with, whether it is on stage, traveling or in musical partnerships.
Although I organise my concert days attentively, often there are too many variables (hotel mattresses, delayed flights among other things) that threaten to upset the plan. Personally, I try to be as relaxed and focused as the conditions allow.

4. With which composer, living or deceased, would you drink your morning coffee?
Any composer that will not complain about my interpretation of their music first thing in the morning.

5. With whom would you like to collaborate with?
With Mozart, he was usually playing second viola in his viola quintets, often with Haydn playing first.

6. Which composer fits your personality best?
Today I can say Bach, tomorrow Brahms or Schoenberg. I believe as a performer we shouldn't allow ourselves to have many preferences of this kind. I find experiences with many different composers that can be very valuable.

7. favorite lunch (spot)?
Definitely my own kitchen. Food is very important for me, and growing up in Rome I experienced a beautiful food culture that I try to incorporate as much as possible.

8. favorite cool down café?
Any that has good coffee and preferably no music.

9. What are you afraid for?
People that try to put their trolleys on top of my viola on the planes.

10. Any cool projects coming up that you can share with us?
The highlight coming up will be to conduct Mahler 1st Symphony in Pescara, Italy.