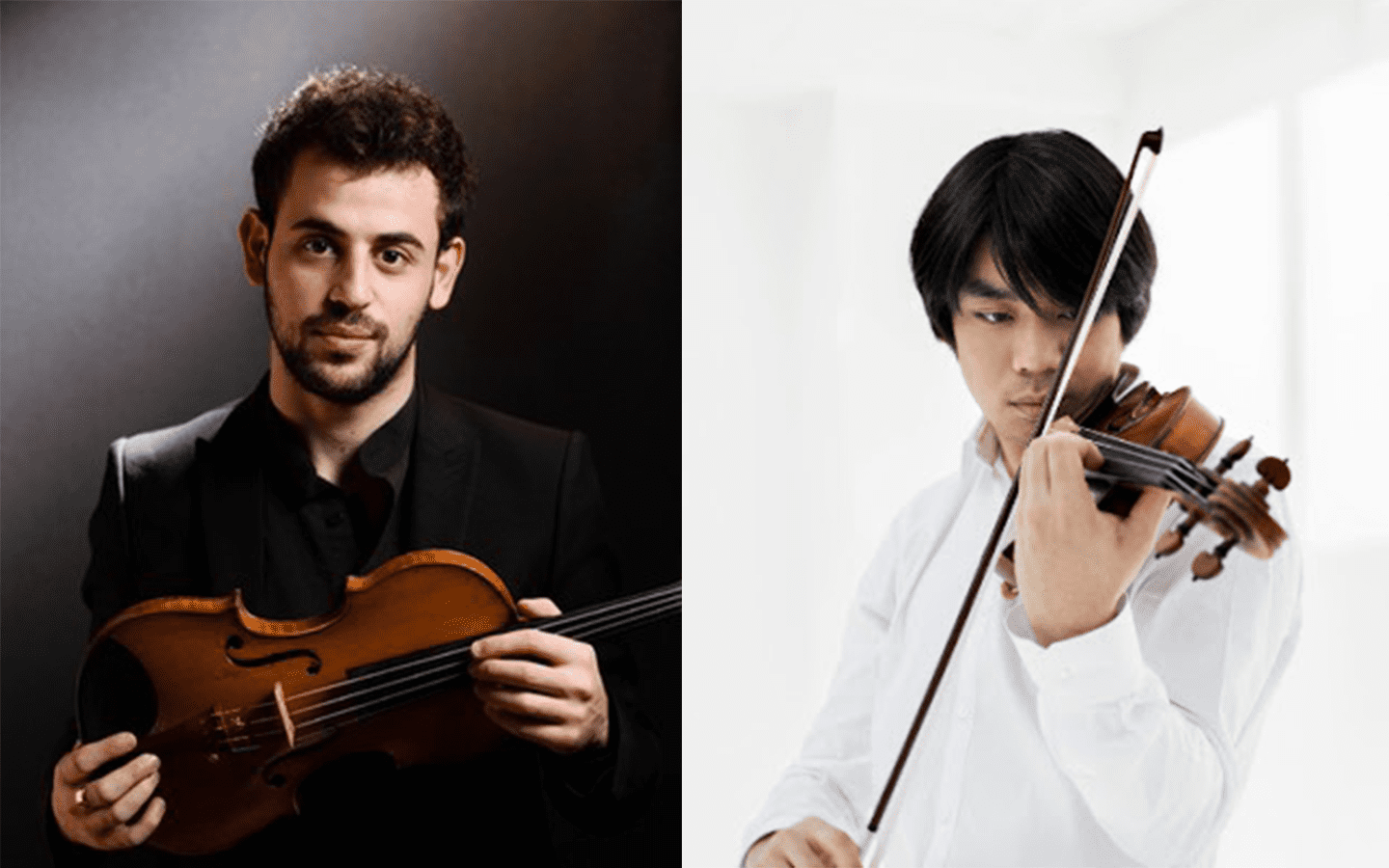 10 questions for Shin Sihan & Yamen Saadi
November 24 we have a very special online 24chambers edition. The Chianti Ensemble will play in the Oedipus brewery in Amsterdam and you can join the concert in our 24 chambers Zoom party! All of these musicians are highly talented and have won prestigious awards. With the Chianti Ensemble they join forces, sometimes performing as a trio or quartet, but in this event you can enjoy all five of them. Today we get to know violinists Shin Sihan and Yamen Saadi a bit better trough our 10 questions!

1.What can we expect at this 24chambers edition?
S: We are going to play two highlights of the piano quintet repertoire: the Piano Quintets by Robert Schumann and César Franck. It's the first time that we are going to perform together in Holland (our first tour in March was cancelled due to the pandemic), so it's quite exciting! Hopefully we can communicate this excitement with the listeners.

Y: I am not sure what to expect from 24chambers concert, but this is why concerts are exciting, you never know what is going to happen only after it is done, but one thing I can promise is a lot of fun to play with this ensemble!

2. What made you choose the violin as an instrument and what got you hooked on your instrument?
S: When I was a toddler, one of few the things that made me stop crying was when there was music playing, especially Mozart. For some reason I was very much drawn to music, in particular when I saw a violin. I'm not sure what the reason was. Already at the age of 2 I wanted to play the violin, but I started at the local music school when I was almost 6. What I especially loved so much about playing the violin was to play together with musician friends. I think the fun I had with making music with friends really drove me to become passionate about music in general, and I'm fortunate to be able to play with some amazing musicians, like my good friends of the Chianti Ensemble.

3. How do you organise the day of a concert?
S: It honestly doesn't feel very different from any other day. Of course mentally I'm preparing myself for the pieces that I'm going to play, but I tend to not practice too much before a concert. I will just go through some scales and exercises to warm up and feel more relaxed, and also go once slowly through the music I'm going to perform. Then off to the dress rehearsal.

Y: Well I try not to change too much of my routine on a concert day, but I try not to stay up late the night before and probably not to practice too much on the same day.

4. What is the best advice that you ever got as a musician?
Y: Play for yourself first, then to the audience. I think when one does that, music becomes much more personal and expressive.

5. Which composer fits your personality best?
S: I'm not sure which composer would fit my personality best. I'm bit of an introvert person, but on stage I change completely and let everything out. In that sense I feel very much connected to the music of Bartók; the fire, passion and pure magic he created in his music never bores me.

Y: I feel like with every musical piece one should adapt their personality to the piece. So I guess one has to use their imagination and always to find new personalities.

6. If you would not be a musician, what would you be?
S: I really like cooking, so perhaps something involving that. I actually also studied English Language and Culture (for a very short time), which I had to quit due to time constraints. Maybe I would have done something with this. Or history!

Y: I have no idea but something that deals with numbers and math. It usually makes sense

7. With which composer would you drink your morning coffee?
S: Beethoven.

Y: I would drink coffee with Beethoven, unfortunately he wont hear my questions though.

8. What are you afraid of?
S: That this Corona pandemic will last for a very long time.

Y: I really hate spiders.

9. What is your favorite music piece and why?
S: For me personally that is almost an impossible question. There are so many great musical works which all could be favorites. But if I really have to choose one, I would say the Chaconne from the d minor Partita for solo violin by Bach. it's amazing how Bach created this complex polyphonic material for violin solo. I'm not a religious person myself at all, but whenever I hear this piece I feel like I could believe in a higher spiritual power, or see a glimpse of Heaven.

Y:The piece that I am playing at the moment is my favorite piece, it changes quite often.

10. What more do you have in store? What will the future bring?
S: I'm currently still studying with my amazing teacher Kolja Blacher at the Hanns Eisler school in Berlin. So for the foreseeable future that will be a priority. Besides that I hope I can continue what I do now, playing many concerts with good friends!

Y: Hopefully this pandemic will end soon and the audience will be back to concert halls! As a musician I do miss having listeners in the hall but luckily today we have the technology to know that we can play from anywhere and have people listen from different parts of the world:) I am sure once this pandemic is over music will be heard even more.

Want to join our Zoom party at November 24? Request your invite!