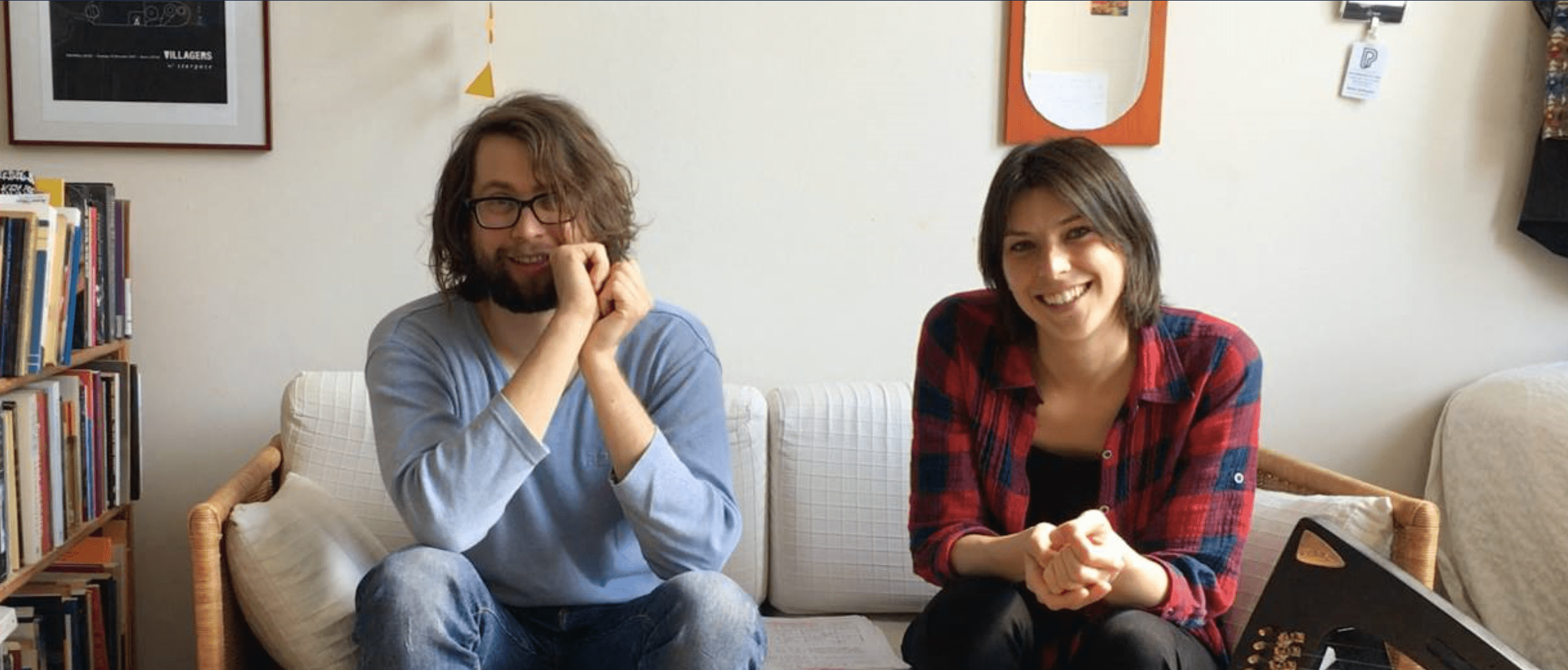 'weird music' from Perforator XL
On the 24th of May, we invited Perforator XL to put on a show that will certainly be less conventional and classical than anything else that we have presented before during our 24chamers concerts. Perforator XL is a collective of members who share the curiosity of creating something new -they combine an oboe, joystick electronics, double bass, guitar and a bassoon together in their search for new musical forms of expression. Marlies van Gangelen and Akim Moiseenkov, the initiators and bandleaders of the five-headed ensemble, also form a duo as Perforator. 24chambers visited the two of them to find out what Perforator XL is all about and what new music there still is to be created in 2017.
How it all began
Despite being schooled in classical oboe and deeply loving classical music, Marlies always felt like the genre was somewhat restricting her. She decided to go to London to complete a master's degree focused on improvisation and interdisciplinary collaborations. From here on in, she started experimenting with new genres and even electronics. The latter fell into place when she met Akim, "who also did something with weird music". Although Akim had played the classical piano when he was little, he felt more at home in composition and electronic music, and eventually did a master's in live electronics. As Perforator, Marlies and Akim are looking for something in between the classical and the electronic. And so it happened that this unlikely combination of oboe and joystick came to be. Together with three other talented musicians who share a love for improvisation – Ernst Glerum, Bram van Sambeek and Aart Strooman – they form the extension Perforator XL.
A new language
According to the duo, the traditional distinction between composer and musician is fading more and more. "Many musicians are also composers these days, they have the need to create. I have the need to create", says Marlies. "But if you want to create new music in the 21st century, you really have to ask yourself what can still be done." They view this challenge as a playground, a space where they can just spend a lot of time together experimenting and making new music. Although they are always looking for something new, they find it important to take the historical tradition into account. "If you ignore the zeitgeist and separate yourself from the tradition you come from, the music will lack a certain profoundness or depth." So they try to take the most inspirational elements from all traditions. As a classically schooled oboist and an electronic musician, the two have had many problems with communication. And they still do, they jokingly admit, each rehearsal is another search. As Marlies is used to reading notes and Akim makes use of midi-staves, they decided to get rid of these old ways all together and develop a whole new language. This new language can consist of literal instructions in sentences, symbols and drawings, or even movement choreography. A time-consuming process, they acknowledge, but a worthwhile one that is leading to many discoveries.

Electronic process on display
Akim makes his own electronic instruments. On stage with Marlies, he works with a joystick that controls the sounds on her oboe. He creates a resonance or alters the tonality by moving the joystick to the right or left, while Marlies is actually making the sounds on her oboe, "doing all the hard work on stage", she jokes. Alternatively, Marlies will play a piece and Akim simultaneously harmonizes it with his joystick. They use movement censors, either attached to the instruments or their bodies. "We make the entire electronic process visible for the audience," Akim explains. "Many electronic musicians are sitting behind laptops, pushing buttons. The audience has no idea what has been produced before and what is being created right there. Everything Perforator does is visible for the audience and everything is created at the exact moment you see it happening."

Improvisation within compositions
At 24chambers, the extra large ensemble performed a program called Backbones; a series of pieces that have been written especially for them by varying composers and musicians such as Julia Holter and Judd Greenstein. The assignment was to write a composition in whatever form on a single A4-sized piece of paper. They received 6 sheets of raw musical material entirely open for their own imagination. Literally backbones, or starting points: lines with symbols, figures and staves that had to be interpreted and shaped into music through extensive rehearsing and workshopping. But they leave some things up to improvisation, or "improvisation within compositions" according to Akim. So how they will play it precisely? That will depend on how they feel on the day of the concert. Curious? Check out their 24chamers concert at Het Kattenkabinet right HERE.